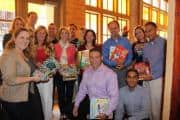 It was early September when the Consero team decided to host a book fair for BookSpring as suggested by our Consero Team member Kristen Bridgeman who serves as their Board Treasurer. Bookspring's mission is to provide reading experiences, tools and books to children and their families so they can develop a desire to read and succeed in school and life.
Over the next month, Consero had collected nearly 70 books and cash donations. The timing was spectacular.
In late October, heavy rains across Central Texas swelled rivers and creeks and triggered flash flooding. Streets were covered with water, many homes were evacuated and the loss of property and material goods that families experienced was devastating.
Organizations came to aid flood victims with cleanup. BookSpring was there to assist and had Consero's books in hand. The following letter came from Amanda Shaver, Bookspring's Volunteer Manager.
"Please let Consero know about the impact that some of your donated books made for children who were displaced by the recent flooding—we were able to send your books to these kids and it was wonderful to have the supply of books to be able to do that! You all are awesome!"
"This is such a difficult time for so many families in that area, and I am SO grateful that you all are a part of bringing smiles to the faces of these children. The gift of a book and the presence of the kind, generous and supportive volunteers made such a difference—I sincerely thank you for helping to make this happen for the children. Thanks to all of you for being so amazing."
Click Here to Learn More About BookSpring