PE-backed software company meets complex reporting requirements and reduces spend with Consero Global's Finance-as-a-Service
The Situation
Founded in 2002, Gimmal is a records management company that serves large industries with record-keeping requirements. The company helps organizations of all sizes implement better information governance and manage content effectively.
Gimmal experienced a significant transformation in recent years. In late 2016, a private equity (PE) firm invested in the company and appointed Mark Johnson as President of Gimmal. Gimmal then began the transition from a services-based business to a software company.
When the company became part of a private equity portfolio, it immediately acquired more stringent and complex financial reporting requirements. "When acquiring companies, PE firms often need the portfolio to have new financial systems, so they can get better information on a timelier and more consistent basis," said Mark.
Private Equity Investment Drives the Need for Stringent Financial Reporting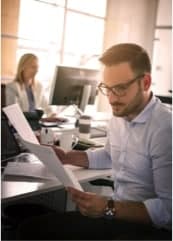 The existing finance team at Gimmal lacked the training and tools to meet the new reporting requirements, and Gimmal needed to achieve compliance quickly. Mark was faced with a decision: "Do I re-staff the entire accounting organization, or start a relationship with a finance & accounting outsourcing partner like Consero?"
To hire and train new employees and onboard new tools, Mark was looking at a timeline of roughly 18 months. With Consero, he could expect a much shorter turnaround time of 30-90 days—all without the worries of staffing, attrition, and systems implementation.
In addition, Mark could evaluate the pool of skills at Consero during implementation and delivery. He also had a longstanding relationship with the leaders of Consero that ensured a high level of trust.
During the implementation, Gimmal opted for access to Consero's Finance as a Service and financial planning and analysis (FP&A) teams to support their in-house Controller and CFO. The Consero team conducted a needs assessment to best understand Gimmal's requirements and configured access to the following:
Sage Intacct for general ledger purposes
Nexonia for time-keeping
Bill.com for AP automation
Consero's SIMPL® console which brought all the software together
under one financial console with integrated reporting.
"Consero quickly built the reports and systems we were lacking, allowing me to focus my efforts where they need to be," said Mark.
Consero Extends Gimmal's Internal Team with Strategic Tools and Expertise
Today, Consero's reach extends to every employee at Gimmal. "It's not just a back-office relationship—it's across the entire business," said Mark.
Project managers at Gimmal frequently interact with Consero's accounting team to set up projects, time tracking, and billing approvals. Sales & Marketing staff work directly with Consero's FP&A team to gather budget and forecasting information. And for Mark and other executives at Gimmal, Consero's SIMPL console provides easy access to real-time reporting.
"Our finance group used to create reports for individual departments," said Mark. "With Consero, each department can check its own financials in SIMPL. Each month, we get emails telling us our reports are ready to retrieve."
"We're better able to communicate our financial position to private equity investors by using Consero's transparent SIMPL portal."
Mark Johnson, President, Gimmal
Consero has been able to support Gimmal as its business needs have evolved, taking on the ASC 606 migration at one-third of the cost of a third-party vendor. And Consero's FP&A team can expand and contract as Gimmal's needs change.
"What I like about Consero is that it has a lot of breadth and depth," said Mark. "The Consero team can evaluate our systems and processes and review the financial model as well. And the Consero FP&A team is great at understanding issues and tackling them efficiently."
Consero also brings a level of stability and consistency to the audit process, including the monthly reconciliation of every balance sheet account and proof of cash. "All the detail is there at our fingertips," said Mark.
Gimmal Gains Transparency, Scalability, Savings, and Predictability with Consero
Gimmal has achieved many benefits from the Consero relationship, including financial visibility, increased efficiency and scalability, time and cost savings, and increased confidence.
"We're better able to communicate our financial position to investors using the transparent SIMPL portal," said Mark. "There's no month-to-month fluctuation in terms of accruals or accrual reversals. Everything is reliable."
Cost savings is significant as well: If Mark were to hire his own people and implement systems and processes, Gimmal would spend approximately 25 percent more annually on finance operations.
In addition, Consero makes Gimmal's finance function predictable. On the tenth workday of every month, the books are closed. Every Friday, bills are paid. "This level of predictability and stability in the organization is not something all PE portfolio companies have," said Mark.
Given the standardized PE reporting requirements, Gimmal's relationship with Consero makes it easier if the company changes ownership. And the variable pricing model is predictable based on the growth of the business.
"Consero is able to scale with the business as our needs grow," said Mark. "They're always there for us."
[av_hr class='short' height='50' shadow='no-shadow' position='center' custom_border='av-border-thin' custom_width='50px' custom_border_color=" custom_margin_top='30px' custom_margin_bottom='30px' icon_select='yes' custom_icon_color=" icon='ue808′ font='entypo-fontello']
OVERVIEW
Gimmal is a records management company that helps organizations of all sizes implement better information governance and manage content effectively.
CHALLENGE
Achieve compliance with PE reporting requirements quickly while scaling to meet the needs of a changing finance operation.
SOLUTION
Gimmal uses Consero's Finance as a Service and Financial Planning & Analysis teams to support their in-house Controller and CFO. Consero also configured Sage Intacct, Nexonia, Bill.com, and the Consero SIMPL console to deliver Gimmal's required reporting and functionality.
RESULT
With Consero, Gimmal saves 25% annually on finance operations. They've also achieved financial transparency, increased efficiency, scalability, and predictability.
HEADQUARTERS
Houston, Texas
[av_hr class='short' height='50' shadow='no-shadow' position='center' custom_border='av-border-thin' custom_width='50px' custom_border_color=" custom_margin_top='30px' custom_margin_bottom='30px' icon_select='yes' custom_icon_color=" icon='ue808′ font='entypo-fontello']